October 24th, 2017.
Dear Members of the Alliance Française de Tucson,
I had the honor and the privilege to represent our Alliance at the 2017 Annual Convention of the Federation of Alliances Françaises USA which took place in New Orleans on October 19th to 21st. I was able to make some very exciting connections, to discover in more detail this wide network of Alliances of which we are part, and I come back with plenty of ideas for our Alliance. I also met the Members of the General Delegation, who represent the Fondation Alliance Française (foundation which coordinates the Alliances Françaises around the world, more than 800!) in the US, as well as the representatives of various US Alliances Françaises, which I hope will lead us to some interesting partnerships.
I am available if you want to know more ; I will say/touch a few words at the next Board meeting which all Members can attend. Meanwhile, I wish you a great week, characterized at the AFT by our "Special week on Francophone idioms", and I hope to see you soon!
Best regards,
Gaëlle Merialdo Torrenti – Executive Director
---
Chers membres de l'Alliance Française de Tucson,
J'ai eu l'honneur et le privilège de représenter notre Alliance lors du congrès annuel de la Fédération des Alliances Françaises USA qui a eu lieu à la Nouvelle Orléans du 19 au 21 octobre. J'ai pu y faire de nombreuses rencontres passionnantes, découvrir plus en détail ce vaste réseau d'Alliances dont nous faisons partie et je reviens avec plein de projets pour notre Alliance. J'ai pu également rencontrer les membres de la Délégation Générale, qui représentent la Fondation Alliance Française (Fondation qui coordonne les Alliances Françaises du monde entier, soit plus de 800 Alliances!) sur le territoire américain, ainsi que les responsables de diverses Alliances Françaises du pays, ce qui j'espère nous permettra des partenariats intéressants.
Je suis à votre disposition si vous souhaitez en savoir plus; j'en toucherai quelques mots lors du prochain Board Meeting auquel tous les membres peuvent assister. En attendant, je vous souhaite une très bonne semaine, marquée à l'Alliance Française de Tucson par notre "Semaine des expressions imagées francophones", et à bientôt j'espère!
Bien cordialement,
Gaëlle Merialdo Torrenti – Directrice exécutive
---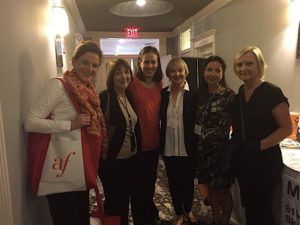 From left to right: Marguerite Bickel & Nelly Sedoun (General Delegation in Washington), Gaëlle Merialdo Torrenti (AF de Tucson), Janine Bobin (AF of Greater Phoenix), Christelle Chamblas (AF de Las Vegas) et Isabelle Leroux (AF de Los Angeles).